The PC board implementation of the Tubelab SE amplifier. For full circuit and theory details see the Tubelab SE page. These boards are available for purchase on our Ordering page. The assembly manual is here.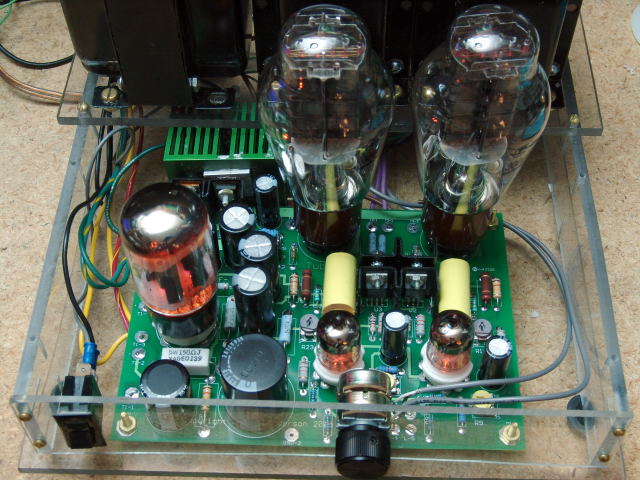 Here is my latest amp based on this board. This is the first of the boards received from the PC board house. The chassis/cabinet is made of Lexan. The design is quiet enough that a metal chassis is not required. In fact I have only built one amp on metal so far. This amp uses Chinese 300B's.
Frequently Asked Questions
There have been many requests for unique assembly configurations of the board. The most common being boards with the components mounted on the bottom side. This is not as easy as it is with other boards since the filament regulator can not be easily mounted on the bottom side of the board. Someone asked if the sockets can be mounted on standoffs with long leads (about 1 inch) connecting them to the board. This is possible (use stopper resistors for the grid leads). There have also been requests for configurations with different tubes (probably prompted by my pictures of these boards being used with several different tubes on the DIYaudio forums). I tried to honor these requests, and put all of this in the manual, until the requests started coming faster than I could answer the e-mail. Since none of these pages were completely finished, none of them are in the manual at this time. They may be added later. An experienced builder can figure these things out. If this is your first board I recommend that you build it exactly as the manual shows.
There has been considerable e-mail lately concerning this board and the complete amp. Some of the recurring questions are answered here. The most popular question is:
How much will it cost to build a complete SE amplifier?
This is a hard question to answer because there are three big variables, the tubes, the transformers and the cabinet. The headphone amp that I built using 01A tubes cost me under $300. The Lexan cased amp shown above cost me just over $600 and $100 of that was for the Lexan. If you built this amp using boutique tubes and high end transformers it would be easy to spend $1500 to $2500. The costs are broken down as follows:
Fixed Costs

| Printed circuit board | $35 |
| --- | --- |
| Parts to populate the PCB | about $80 |
| Other small parts | $20 |
| Power transformer | $40 or more |
| Total fixed costs | $175 |
To build a complete amplifier you will also need tubes, the output transformers, and an enclosure.
Additional Components

| Output transformers | $60 to $210 or more |
| --- | --- |
| Total tubes | $62 (patient Ebay shopping) to $90 to over $500 (tube dealer) |
| Enclosure | $10 to several hundred |
| Total amplifier cost | $300 to $1000 or more |
To assist you in making your decision I can explain my experience with several of these amplifiers.
Output Transformers
The choice of output transformers will have the biggest influence on the sound that a single ended amplifier produces. I believe that this is where most of your budget should be spent. Get the best set of transformers that you can afford, you are not likely to upgrade them later.
I have built amplifiers using several different output transformers. I can report my experiences with these. I list these in order of my preference from best to worst:
Electra Print (www.electra-print.com) has two transformers that are useful in this amp, BE5KB (5.3K ohm impedance for 45 type tubes) and TM3KB (3.4K ohm impedance for 2A3's and 300b's). They are about $145 each. Jack will wind you a custom transformer, with only a single output impedance winding for a little over $100 each. Ask for the "Albert Pagan design". These are the transformers that are shown in the amplifier above. They have the best sound of any transformer that I have tried in this design. An excellent choice for a top notch amp.
Close behind the Electra-Prints are the One Electron's. Use the UBT-2 with 45's and the UBT-3 with 2A3's or 300B's. These are just under $100 each. Also an excellent choice.
The Edcor XSE-15-8-5K. This transformer is an absolute bargain at $18 each. These are not meant for high end amplifiers nor are they priced for high end. Someone asked about these in the DIYaudio forums, so I bought a pair to test. That was a month ago and they are still "temporarily" connected into my amp in place of the Electra-Prints. If you use a subwoofer that does not get its signal from the speaker outputs, then this transformer can deliver high end sound. These are available in a single output impedance configuration only.
Hammond 125CSE. The Hammonds are $29 each and are good budget transformers. These sound (and test) very similar to the Edcors. They just cost $11 more. If you need multiple output impedances in a budget transformer, use this one.
I ordered two "Single Ended Champ Transformers" #TF103-48 from Triode Electronics ($14 each). These will really scream in a SE guitar amp, and were never meant for HiFi. They are tiny, 2 inches tall. I didn't expect serious high fidelity from these, but I tried them just to see what would happen. They don't sound half bad, but bass is kind of weak. Good for a guitar amp, but for a budget HiFi, spend the extra $8 for the Edcors.
I have also used Schumaker push - pull guitar amp transformers (found on Ebay) with good results, but they sound much better if you take them apart and rearrange the laminations with an air gap. After this is done these actually sound better than the Hammond 125CSE. I built an amp using transformers from HandwoundTransformers.com which sound quite good (I also used their transformers in the 845 SE), but their delivery and customer service sucks, so I can not recommend them (now out of business).
If price is no object brands like Magnequest, Tango, and Audio Note come to mind, but all of my amplifiers are built on a pretty strict budget so I have not tried any of these. There are plenty of other transformers out there but I have not heard them in this amplifier.
Total output Transformers = $60, $210 or more
Tubes
Tubes have the second biggest influence on the amplifiers sound quality, however they are easily changed. I would recommend getting a reasonably priced set of tubes when you first build this (or any) amplifier. Even if money is not an issue don't put a set of vintage Western Electric 300B's into ANY amplifier until you are absolutely sure everything is working perfectly. I use a set of used 45's and a Chinese 5AR4 for testing a new amp. I will use those for 4 or 5 hours listening time before installing valuable tubes. I will explain my personal tube choices below.
Keep in mind that your speakers and musical tastes have a very large influence on your decision. I have Yamaha NS-10M studio monitor speakers which are inefficient (86db). My listening room, which is also the lab, is small (10 by 11 feet). I sit 3 feet in front of the speakers. None of these are ideal conditions, and are likely to be different than yours. Even in this small room I tend to turn the volume up all the way to compensate for the inefficient speakers. Therefore I tend to favor the 300B's for dynamic music. If I had more efficient speakers I would probably use the 45 for most music. If you get the Single Ended Fever you are going to start your own collection of tubes anyway so, for what it is worth, here are my experiences:
I am using a NOS RCA 5AR4 in the amp shown here, because I had one in my collection. In other amplifiers, I use the Sovtek 5AR4 or the Chinese ones (Westinghouse branded), they are about $10 each. I have also tried International branded 5AR4's I don't notice much difference between the different 5AR4's in this amplifier, but in my 845SE the Sovteks actually sound the best. I have not tried any of the expensive brands. The amp will work with other rectifier tubes (5U4, 5Y3 etc) but I like the 5AR4 because it is very slow to warm up, which gives the other tubes plenty of time to get hot before the B+ comes up.
The 5842's are $10 each from a tube dealer, about $6 on Ebay. I have over 50 Raytheon 5842's and two WE 5842's. They all sound the same to me. I tried a borrowed pair of WE417's but they did not have enough gain to use without a preamp or line stage. (these tubes have been discovered by the audiophile community and the price is rising, unfortunately there is no substitute).
I have used several types of output tubes. When I started down the single ended path I wanted a very clean 1 or 2 watt amp as the starting point for a hybrid (tubes and transistors combined) amp. The 45 seemed like the best choice. This amp was conceived with 45's in mind. I got all of my 45's ( I now have over 20 of them) on Ebay. If you are patient you can get them for under $20 each. I got 3 for $13 once because they were "weak", two of those are still being used in my 845 SE amp. All of these 45's are of the ST type. I don't have any globe type 45's, and have not tried any of them.
The 45 is the cleanest sounding tube that I have tried. These definitely don't all sound the same. There are different sound characteristics between two tubes of identical construction and brand. I am sure these differences are also quite dependent upon personal preference and the type of music being played. My favorite pair of 45's are "Westinghouse Radio tubes" that were made in Canada. These have a "close your eyes and you are there" realism that the others can't match. I have a pair of Tung Sol's that come close.
I found an old Sparton radio at a flea market for $20. It had a pair of National Union globe type NX-483 triodes, which found their way into one of my amps. These sound almost as detailed and clean as the 45's but have better bass and a little more power. A good tradeoff considering my inefficient speakers and penchant for rock music. It is interesting to note that both of the tube dealers that I called have never heard of NX-483's.
I have tried the amplifier with RCA 2A3's (dual plate) and Shuguang 2A3's. The 2A3 tubes are electrically similar to two 45's in parallel. The 2A3's have more bass and slightly more power than the NX-483's. They also are not as detailed as the 45's or NX-483's. I have tried playing all types of music through 2A3's and I have not been impressed. The audiophile world refers to the 2A3's sound as "sweet, silky, smooth" etc. I guess that I just don't like that sound. I don't dislike it, I just prefer the sound of all of the other tubes that I have tried more. I have not tried any of the expensive types of 2A3's. All of them were purchased from a tube dealer (ESRC 407-826-5008) for $30 each. It should be noted that 2A3's require 2.5 amps of filament current per tube. These will require a good heat sink on the regulator IC.
I have also used Sovtek and Shuguang 300B tubes. I can not recommend buying Sovtek 300B tubes due to reliability issues (see the 300 Beast page). But I borrowed a pair from the 300Beast and tried them out. Definitely the loudest tubes with the best bass that I have tried, not near as clean and detailed as 45's but better than 2A3's (to my ears). These got me interested enough to purchase a pair of Shuguang (metal plate) 300B's from ESRC for $50 each. The new mesh plate 300B's were too expensive. I put these in the amp and I was seriously impressed. The same power and bass as the Sovteks but almost as realistic as 45's. These have been in the amp since I got them (3 weeks). I can recommend these for someone looking for a (relatively) low cost 300B tube. I am tempted to get a set (4) for the 300Beast. I have not tried any other 300B tube, since they are beyond my budget at this time. Western Electric 300B's go for over $300 each. ( I have since purchased about 5 pairs of these tubes for SE amps, there have been no problems).
Total Tubes = $62, (patient Ebay shopping) $90 to over $500 (tube dealer)
Enclosure
It is possible to simply screw the transformers and PC board to a piece of wood (shown below) for a complete amplifier. This is NOT recommended due to the exposed electricity. I made a thin Lexan cover for the amplifier shown below (with holes for the tubes and large caps) to protect against shock. I have made simple cabinets from wood, and metal. These are all low cost cabinets. The amplifier is designed such that a metal cabinet is not necessary and hum is non existent. The Lexan case shown above works very well and looks good. A second one is under construction using glue instead of screws. Lexan is not cheap, but remnants can be found on Ebay. Do not use Plexiglas, it will deform under the weight of the transformers when it gets hot.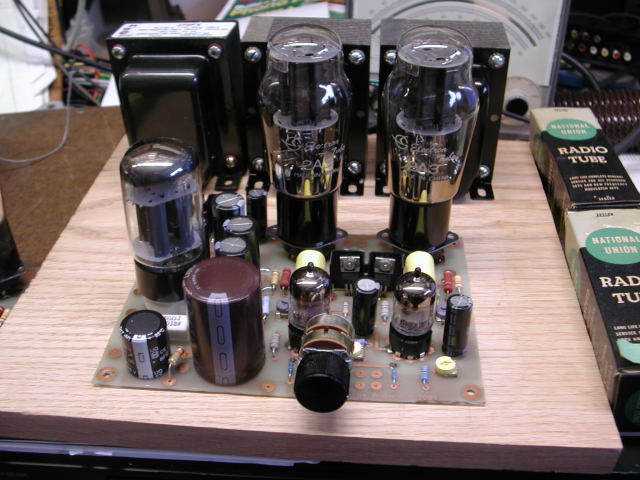 Just add 3 Transformers, a piece of wood, and you have an amp (shown with 2A3's, volume control, the large power supply cap 470uF 450V) output transformers are Electra-Prints. All wiring is underneath the board.
I have built a unique design by mounting the large capacitors on the back side of the PC board. The board was then mounted using 1/2 inch standoffs to the bottom side of an aluminum panel which was punched for the tube sockets and drilled for access to the adjustment pots. The transformers were mounted to the top of the aluminum panel. The panel was then mounted to a wooden base. This amplifier looks like a traditional design from the top, the PC board is not visible. Unfortunately I sold this amp before I photographed it but I have visitation rights. (NOT) The purchaser moved away, and I lost track of it. This is NOT a simple modification, and I don't recommend it for inexperienced builders.
Total Enclosure = $10 to several hundred
What does it sound like?
Gee, another hard question. How do I describe the sound of an amplifier without sounding like one of those "experts" that write amplifier reviews in the audio magazines. Obviously I like the sound of this amplifier, I created it. I have not yet had the opportunity to audition one of these amps side by side with other single ended amps using real audiophile speakers. That listening session has been postponed so many times I am not sure that it will ever happen. I have two friends who have popular amps that use the same Electra Print transformers as my amp, so it would be an interesting test of the circuit design.
One of my amps went to a person who wanted a "small amp for a second system". He already had a 300B amp that he had purchased in Hong Kong. After using this amp his other 300B amp was banished to the office and this amp became his main amp. He said that this one was more "alive and dynamic".
I currently have 3 amplifiers in my system. The Lexan cased Tubelab SE shown above. The 845SE, a 40 watt per channel SE amplifier that also uses this PC board, and the 300Beast, a 30 watt per channel push - pull amp using Sovtek 300B's. I have them all arranged such that switching amps takes about a minute. I also have 3 sets of speakers, the Yamahas, an old pair of Advent 3 ways with a 12 inch woofer (not anymore the 845 blew the woofers), and a pair of AR-4AX's, but swapping them out takes longer since I don't have the room for them all at the same time. I have found that the AR-4s are terribly inefficient, don't like tube amps in general and sound terribly with either SE amp even with 40 watts ( hey I got them for free). The Advents definitely have the best bass because of the 12 inch woofer, otherwise they are not awe inspiring. If I had the room I would use these for rock music. They seem to sound best with the push - pull amp, good for Jimi Hendrix, Pink Floyd, the Who, etc. I got these and a Dynaco ST70 at a church rummage sale for $50.
I use the Yamaha NS-10's for daily listening. They were designed as recording studio monitor speakers, most likely with solid state amplification in mind. When I purchased them I used them in my home studio (computer based) with a solid state amp. I still use them for recording monitors, and for listening to music with one of the three tube amps. The solid state home theater amp now occupies a spot in the closet. It has been there since I got the Scott tube amp about ten years ago. I can switch between any of the three amps, and I do. I use the 300Beast for music that requires tight bass. I use it also when playing a software synthesizer like Cakewalk Project 5, or Arturia's MiniMoog. The MiniMoog has the wall shaking bass that is reminiscent of the original Mini Moog synthesizer. I use the 845SE when I want to get loud, real loud. It unfortunately will raise the room temperature real quickly (not good in South Florida).
For almost all general listening I use the Tubelab SE. It is the best sounding of the three amps. It also has the weakest bass of the three amps. This has nothing to do with the amplifier's frequency response. All SE amps have a higher output impedance than a similar powered push - pull amp. All tube amps have a higher output impedance than a similar powered solid state amp. What does this have to do with sound? A lot it turns out. An 8 ohm speaker is 8 ohms only at a frequency of 1 KHz. It can be just about any impedance at other frequencies. A "tube friendly" speaker has an impedance that remains close to 8 ohms for all frequencies, especially bass frequencies. A solid state amplifier with lots of negative feedback can deal with wide impedance excursions. A single ended tube amplifier may have a ruler flat frequency response curve with an 8 ohm test load, but can exhibit wild swings in response when driving a real speaker. This is why some SE amp owners report "boomy" or "flabby" bass. This is usually caused by the speakers, not the amp. The reason some tubes (in the same amp) have stronger bass, they have a lower impedance so they are less affected by the speakers. Why am I explaining all of this? I am trying to make the point that the choice of speakers will influence the sound of a single ended amplifier more than the amplifier itself does. The only way that I could get any decent sound out of the AR-4's with a SE amp was by applying a ton of negative feedback to the 845SE, at which point it began to sound like a solid state amp. If you are contemplating purchasing a set of speakers for use with a single ended amp it would be wise to see if they are compatible with a SE tube amp. In many cases this is not easy, the manufacturers of most mainstream speaker systems don't seem to acknowledge that vacuum tubes exist. The manufacturers of speaker systems tailored for vacuum tube audio seem to charge premium prices for them. Finding a good compromise may take some work.
What about tweaks or upgrades?
We have specified good quality parts in the basic design. I have been experimenting with this amplifier design for about two years now and I have built nine of them. The parts specified in the assembly instructions will provide excellent sound. There are a few possible upgrades that MAY provide an improvement in sound. I have listed some of them below:
The most popular place to upgrade any amplifier is the coupling capacitors. The PowerDrive circuitry used in this design makes the choice of coupling capacitor less critical due to the high input impedance of the Mosfet. Nevertheless the coupling cap is still the best place to upgrade this amp. The assembly manual lists several choices for coupling capacitors. The circuit board provides room for the larger size Auricaps, Musicaps, Wonder Caps, etc. If you have a personal favorite feel free to use it. Smaller tubular oil caps could be used for coupling caps on the board. I have also tried using larger oil caps off the board with connecting wires. I have not found any advantage to using oil caps for coupling caps and I believe that the larger ones might actually have caused a small degradation. I have also purposely tried low quality capacitors and found that they cause an obvious sound degradation. Cheap hamfest (10 for $1) caps exhibit a "plastic" sound especially with headphones.
There is room on the board for a larger electrolytic capacitor across the output of the power supply. I have built several amps both ways and I find no difference in any of the systems that I have listened to. Some believe that a larger cap will improve the bass. Theory suggests that this is not the case since the current drawn in a class A system is constant. Theory also suggests that a higher quality (lower ESR) cap should improve the channel separation and musical dynamics due to a lower power supply impedance. If you want to install a better capacitor, I have provided part numbers in the manual.
Another popular tweak is the use of "oil" or "paper in oil" capacitors. I have tried these and I find that this tweak has some merit. I found that connecting an oil capacitor across the output of the power supply seems to improve transient response. Listen carefully to snare drums, rim shots (where the drummer whacks the rim of the drum with his drumstick) and similar sounds. I have been using 1uF 600 Volt metal encased capacitors. I bought a large box of these at a hamfest for $1 each. It is possible to find these in old surplus equipment especially avionics. Since these are quite large they are not mounted on the PC board, they are mounted somewhere in the cabinet and connected to the PC board using short pieces of wire. There is theoretical merit to this tweak. The electrolytic capacitors used in the power supply are made by rolling paper saturated in the electrolyte together with two layers of aluminum foil and enclosing them in a can. This rolled structure causes them to be inductive to some degree. The newer low ESR Panasonics are much better in this respect. This inductance causes the power supplies internal impedance to rise at the higher audio frequencies. The oil cap has a lower inductance and the combination of the two capacitors will yield a lower power supply impedance at all audio frequencies. I have found that connecting a Solen fast cap across the power supply has the same effect and can be a viable alternative to an oil cap. It is possible to leave the electrolytics out completely and connect large oil capacitors in their place. This would require a lot of space and money, so I haven't tried it. C5 is the power supply output cap. This is important to the sound of an SE amp. Put a good quality cap here, even if every other part in the amp is from your junk box.
There is provision on the board for an external choke in the power supply. With my low sensitivity speakers there is zero hum, so I don't use one. The choke can reduce hum with extremely sensitive speakers. More importantly the values of the choke and the input capacitor can be used to adjust the B+ voltage.
These are the popular tweaks that I have applied successfully. The design already uses metal film resistors in the signal path. I suppose that a purist could upgrade all of the resistors on the whole board. I personally believe you should spend the money on better transformers.
Are you going to offer kits or completed amps?
We had not planned to offer kits since up till recently no one showed any interest in buying a kit. I have already built and sold several of these amps. I will continue to do this as time permits. If I get enough interest I may consider putting together a kit. If you want us to provide complete kits, e-mail us. The costs involve several thousand dollars. I don't want to spend the money if no one is going to buy them. I don't have the man power to do kits at this time.
I have never built a tube amp before, how difficult is it?
I have written a detailed construction manual. It shows you what each part is and where it goes on the board. Building the board involves putting all of the parts in their place on the board and soldering them. Once the board is assembled the three transformers are connected to the board by soldering their leads into corresponding holes on the board. At this point basic electrical checks must be made. This involves powering up the board and taking voltage readings. If you have never done this or don't feel comfortable probing a live circuit which is carrying over 300 Volts, please enlist the help of a qualified technician. After all checks out, the tubes are installed, and a few more measurements are made. Then you need to set the bias on all 4 tubes. Then you will have a working amplifier.
The entire assembly manual is now on the web site. Please read it over and determine if this project is within your capabilities. I have had several "test builders" assemble an amplifier using these instructions. The problem areas seem to be soldering, final checkout, and final assembly (finding and assembling a suitable enclosure). If you are unsure about any of this, it might be wise to start off with a simpler project. Look for a simple design that requires no adjustments. We have two different prototype projects in the testing stage that fit these requirements. They are both being "test built" by inexperienced builders, and the winner will be available later this year. (So far it looks like it will be a 2 tube SE that makes about 2 watts per channel using the 6EM7. it sounds great too).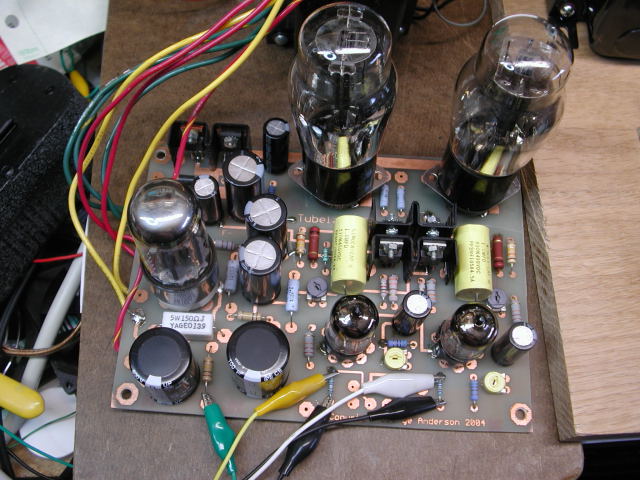 A prototype Tubelab SE board being powered up for the first time.
Although it is entirely possible to use the amplifier in this manner it is imperative that some type of enclosure be made to protect the user, and casual observer that may not understand the shock risk. This is especially important if you have children or pets. Several suggestions are offered for enclosures, but you could build almost anything that does not severely restrict the air flow around the tubes and other components.
What tools and equipment do I need?
To build the board you will need a good soldering iron, wire cutters (diagonal cutters), and wire strippers. Needle nose pliers and a small Phillips screwdriver will be needed to attach the heat sinks. For testing out the freshly built board a digital voltmeter is required. It doesn't need to be expensive but must have the ability to measure up to 400 Volts DC. I also recommend a set of alligator clip leads like those shown above. They allow temporary connections to be made to the board for testing. You will need other tools to build your cabinet but these will be specific to your cabinet choice.
What other projects can I build with this board?
This versatile board was designed to be a complete stereo SE amplifier, including the power supply. Several types of output tubes can be used. I have used 45's, 2A3's, 300B's, NX-483's, and 182's in this board with great success. This is what most of these boards will be used for.
The board also makes a perfect driver board for a high power SE amp. I used one to build the 845SE a 40 watt per channel single ended amplifier. In this application the 45 (or other tube) becomes the driver for a larger tube. My amplifier uses 845's or 211's to produce about 40 watts per channel. I chose not to use the on board power supply, so there is no tube in the rectifier socket. The board has provisions for use as a driver board either with or without the built in power supply. It is possible to use this board as a driver with a driver transformer, RC coupling, or an external Power Drive board to drive the large triode. I have a previous customer who is waiting for one of these boards to build an 833A amplifier.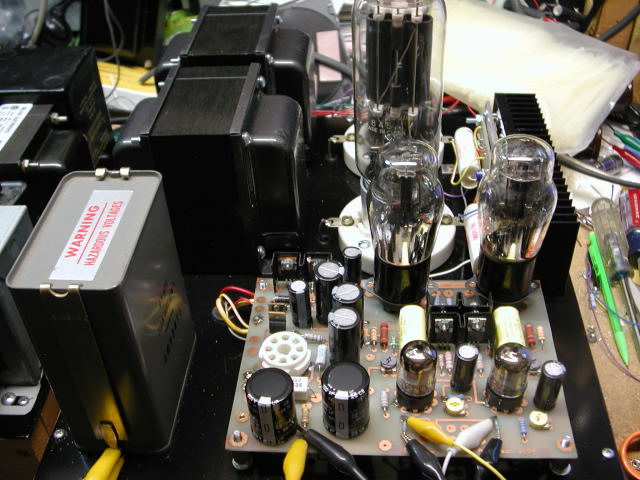 This is the Tubelab SE board being used as the driver circuit for the 845SE a 40 watt per channel SE monster amp.
I have also built a headphone amp that uses 01A's or 30's of 31's using the same board. This requires some modification to the board since 01A's want to run on about 110 volts of B+. I could not find a transformer of this voltage that also has a 5 volt filament winding to power the rectifier. The simplest solution is to use solid state rectification. I tried this and it works, you can just bend the leads on some FRED diodes and solder them in the tube socket holes. I also tried using a 6X5 tube rectifier. This requires some minor board modification. Even with the extra hassle I prefer this approach. This amplifier used the Hammond 125CSE transformers. With the bias set at 10 mA, I get just over 1/8 of a watt using 01A tubes.
As I briefly mentioned before I tried using a Tubelab SE as a guitar amplifier. I don't think there are too many people out there that are crazy enough to do this, but it did sound pretty good. Good enough that I will probably investigate some type of single ended guitar amp board in the future.
Complete plans for these additional projects are not available at this time. The 845SE amp is covered on the 845SE page.