NOTE, This board is NOT available yet. The decision to commercially duplicate it has not been made yet.
When the SE fever broke and I decided to build some push-pull designs, I knew that I would need at least two. One would be the Tubelab SPP, which is intended for the same audience as the Tubelab SSE, those desiring a good sounding amplifier at a reasonable cost, for builders of all skill levels. The other was going to be a big brother using octal tubes. It did not take rocket science to figure out that a PC board to handle 4 big output tubes like KT88's a rectifier and a pair of driver tubes would be about a foot wide and cost far too much. Thermal management would be a big issue. OK, ditch that idea. Why don't I just build the design that I want for myself, after all that is how the Tubelab SE came to exist. What would that be? One large PC board would be out of the question. It would be possible to include everything on one PC board except for the output tubes, but the power supply requirements for all of the possible configurations vary considerably, so the power supply will not be on the board. The board can be for one or two channels but that decision is not important now, it can be made later.
I built an amplifier almost 10 years ago that I called the 300Beast. I threw that amp together in a hurry and used some rather cheap components but the sound it produces is amazing. It is the only amp that I have saved all of this time, but sadly, it has died. I can revive it, but in the long term I need to build a new Beast, so the board must be capable of driving push pull 300B tubes, and it must sound as good as the original Beast.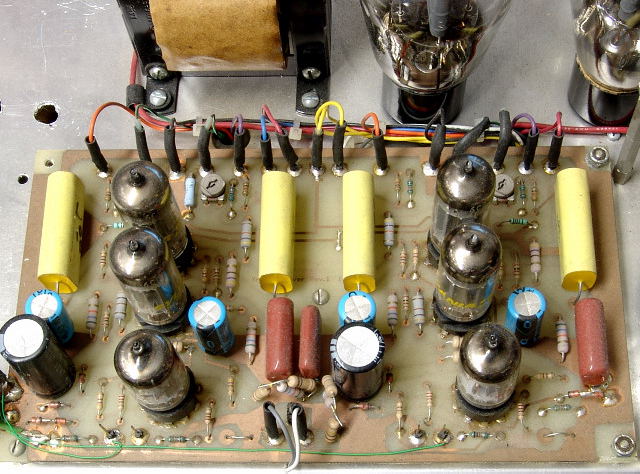 This is the 300Beast driver board.
The Driver board used in the original 300Beast used a 5751 in LTP for the first stage. It used a pair of 6FQ7's wired in SRPP that are also cathode coupled as the "LTP" second stage. Kind of weird, but it worked good. I never drew up a complete schematic though.
There has been considerable interest in the "big brother" mentioned above. I have received several requests for everything from a simple 6L6GC P-P to a "ST70 on steroids". The board must be able to drive any of the typical audio tubes in P-P in triode, UL and pentode, class A, AB1 and AB2. This is probably where most of these boards will be used, so other requirements must not compromise this application. I have a box full of 813's and I would like to "light em up" so I will include the 813 since it is easier to drive than the 300B. 211's, 833A's and maybe 845's would be included if their requirements don't cause problems.
A couple of years ago, SY mentioned some extreme power that he was getting from a single pair of sweep tubes using screen drive. I had read about some commercial screen driven amps (Berning) but never tried it. I had just developed the Tubelab 3 breadboarding system, so I screwed together a screen drive amp using a pair of $3 sweep tubes, and yes some serious power flowed forth (see the 6AV5 page). Screen drive requires some serious drive voltage, hundreds of volts P-P and the driver must source screen current which could be tens of milliamps. The current is not an issue with PowerDrive, but the voltage requirements are not trivial. The new driver should be able to supply the drive voltage and current needed for screen drive.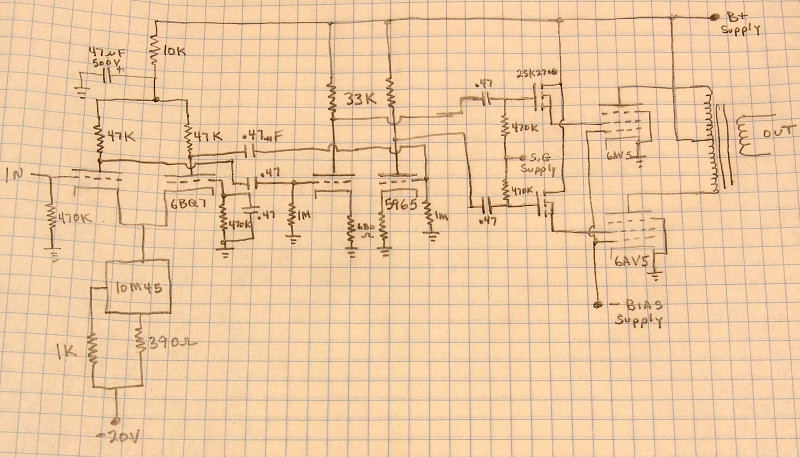 During the summer of 2008 I did some more screen drive experiments. I created a temporary driver board for these experiments. It followed the schematic above but used 6SN7's for both tubes.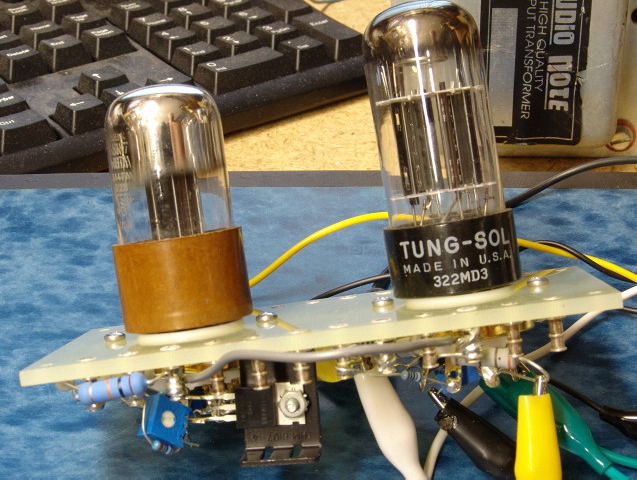 This board was used to extract over 100 watts out of a pair of 6BQ6's that were purchased for 98 cents each! It was used in some cathode follower experiments and some hybrid amp experiments. This information was stored in the back of my brain and ignored for a while.
I incorporated all of the ideas learned from these and other experiments to develop a prototype "Universal Driver Board". It can be operated with the two stages directly coupled to eliminate a pair of capacitors from the signal path, or it can be capacitor coupled to allow for maximum output voltage swing in screen drive or cathode follower applications. Mosfet PowerDrive handles the grid drive duties. The schematic is similar to the screen drive amp above except that there is a CCS chip under the second stage cathodes just like the first stage. I laid out a board while on a road trip. It then took about 6 months before I actually made it work. The results are seen below.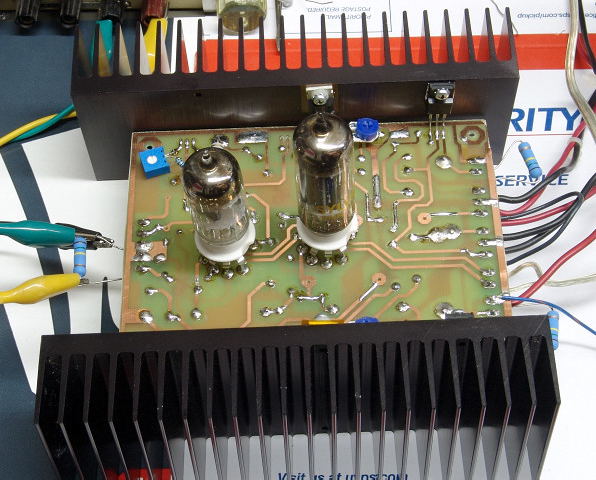 The driver by itself
The heat sinks are serious overkill but I had them handy. This is the same board that is shown on the Tubelab home page with another pair of tube sockets soldered on the back of the board to compensate for the PC board fabrication error.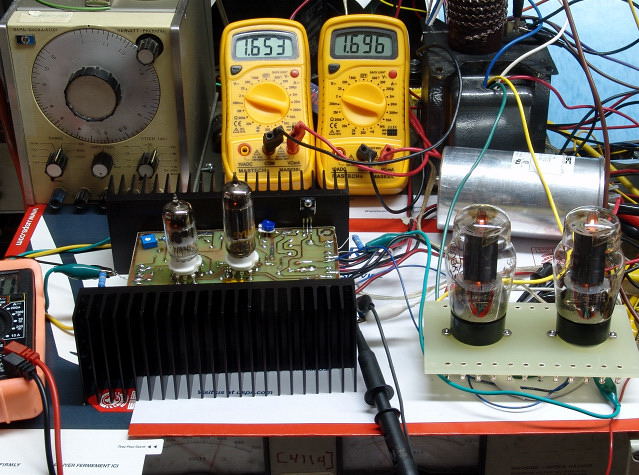 90 watts from cheap Chinese 6L6GC's
The 6L6GC's are being operated entirely within the published specifications for 6L6GC's. They are running in pentode mode, class AB2 with 500 volts on the plate and 400 volts on G2. Plate to plate load is 3300 ohms.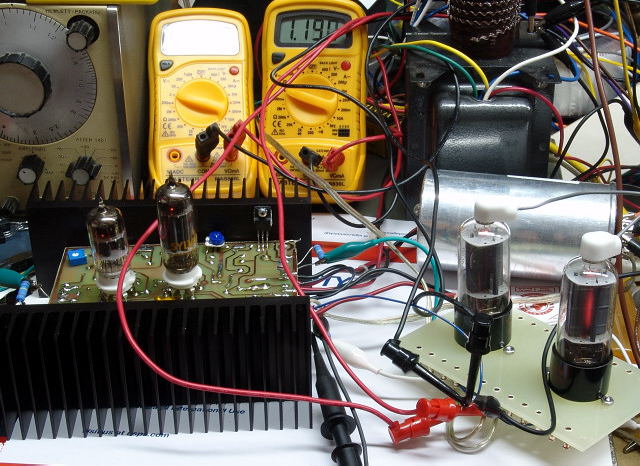 These 98 cent 6BQ6's are cranking out 126 watts! (screen drive)
These tubes are obviously not operating within their published ratings, but they cost 98 cents each and i bought a bunch! Come to think of it, I haven't seen any published specs for 6BQ6GT's in screen driven audio output applications. I got carried away and discovered that at about 150 watts the screen grid glowed bright enough to become a cathode resulting in a lightning bolt inside the tube toasting the tube and the mosfet driving it! Screen drive pulls the screen grid up toward B+ at the same time the plate voltage is near zero causing a large screen current at the peak of the sine wave. This would not be a problem with music since the average power is far lower than the peak, but it can lead to fireworks when the amp is operated at 150 watts in clipping for about 2 minutes!
I had a bunch of fun using this board to make stupid amounts of power using cheap tubes. I only have one, but I did get to listen to it in mono with the 6L6GC's for a while. Some feedback is needed to tighten up the bass but it does sound good, and it flat ROCKS the whole house. Work, the Tubelab SPP, and other projects pushed this board off of the workbench several months ago. It has not seen B+ since then.
A thread developed on the diyAudio forum dealing with designing an amplifier using 6L6GC's in AB2. The thread originator desired to use 6SN7's for the driver tubes. This thread started out as a "paper design" centered around modifying the Universal Driver for these specific parameters. 350 posts later I have a working prototype stereo amplifier that proves that you can extract 50 WPC from those same cheap Chinese 6L6GC's in TRIODE without any feedback and it sounds great. See the Octal Driver Doard page for more details.