No it's not the latest action hero, but everyone wants a name for their unique circuit. Call this whatever you want.
Tubes are great voltage amplifiers, in fact I know of nothing more linear (without tons of feedback) than a triode with a current source load. Tubes don't make great current amplifiers. Yes there are tubes made for current amps like the 6AS7, 6336, and 6C33 but they aren't very linear and tend to be unstable when used as a voltage amplifier. To make an audio amplifier we need both. A turntable or a CD player produces a few millivolts of signal and can source a very few milliamps of current. A speaker requires several volts of signal and draws a few amps of current. A vacuum tube amplifier uses a large amount of voltage amplification to generate several hundred volts of signal with a small current amplification. A step-down transformer (the output transformer) then reduces the voltage while increasing the available current. This is called impedance matching.
Transistors are good current amplifiers (especially in emitter follower configuration). A modern solid state amplifier has no problem generating all of the current amplification that it needs. Voltage amplification is another matter. Transistors are inherently non-linear when operated over a large voltage range. To correct for this non-linearity large amounts of negative feedback is used.
The emitter follower configuration can be extremely linear if the right transistor and operating current is chosen (look for constant beta in the chosen current range). The emitter follower or source follower has high current gain (no voltage gain). The vacuum tube has good voltage gain and fair current gain. When paired in "super tube" configuration you can realize the best of both worlds. Would you like a 300B that can deliver an amp of current. It is possible!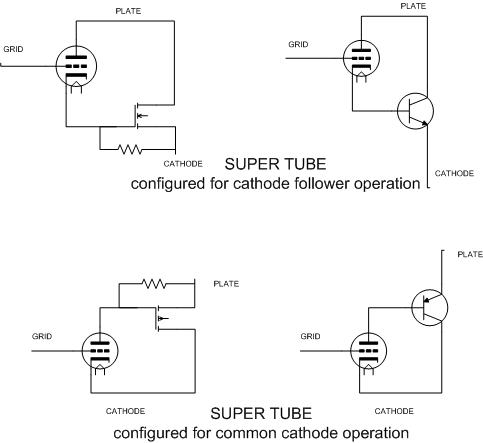 We have just begun experimenting with these configurations. The first amp design is in progress. See the Super Tube SE page.
I have not had the time (and you haven't expressed an interest) to develop these ideas further. However it was thinking along these lines that led to the creation of PowerDrive. I think that PowerDrive is one of my best ideas yet. It allows more power output and better sound at the same time.