Note: This board has never been mass produced. The demand is not high enough for affordable duplication. The circuit is simple enough that perf board construction or point to point wiring can be used. The schematic and pictures are posted here for those who desire to make their own.
I have had a few people e-mail me asking if I could make them a PowerDrive board, even a prototype board. Please understand that this is impossible at this time. Each person has asked for something unique, or a board for a tube that I have never tested. A new and unique PC board design and layout takes me 10 to 20 hours of work to generate the files for a simple board like this. A prototype quality (cooked up in my kitchen) board like the one shown takes me 4 hours or more. Board houses that specialize in quick turn prototypes will charge $150 to $500 for one to three prototype boards. I would then have to assemble one board and test it to guarantee success. I simply do not have the time to pursue this, nor is it economically feasible.
The driver board also called the heat sink board is shown here mounted to a large heat sink. The components on this board dissipate about 30 watts total. Most of that is in the two power resistors. Conventional power resistors could be used without a heat sink, but they are large. The board contains two (stereo pair) PowerDrive circuits on a common board.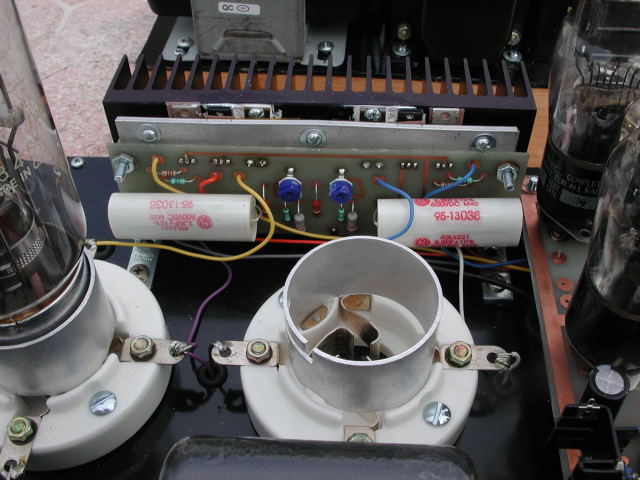 The PowerDrive board mounted in the845SE amplifier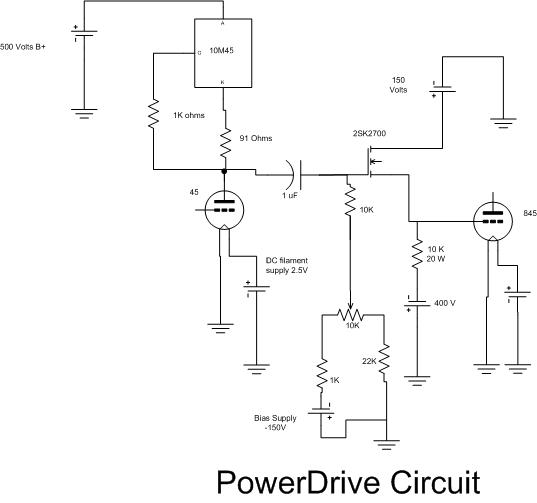 Two of everything except the tubes and voltage sources is on this board.
See the PowerDrive page for theory and circuit details.