I built this amp a while ago. It still gets noticed, so I took it apart and explained its construction here.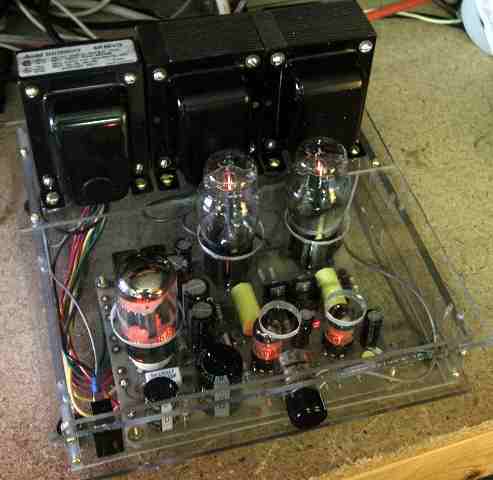 This is the amp as it was built 2 years ago. Several modifications have been made since this picture was taken. The biggest issue was the close proximity of the power transformer and the left output transformer. This created no problems with my 86 db speakers, but some hum was noticed when I took the amp over to meet some 97db speakers. I fixed this by rotating the power transformer 90 degrees. The amp was used mostly with 45 tubes during its early life. Even in this small cabinet this was not a problem. When I installed 2A3's or 300B's which consume far more filament power the filament regulator overheated, so I added a big heat sink. Later I added a power supply choke and a supplemental capacitor. This little box has gotten quite crowded.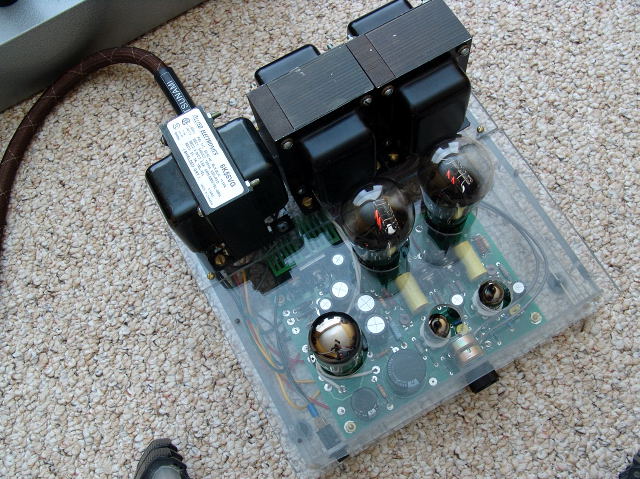 Here is the amp after 2 years of evolution. The large green heat sink can be seen to the left of the output tubes. The twisted pair of white wires lead to the choke that is hidden under the right OPT. The supplemental capacitor is under the left OPT.