The 300 Beast is a 300B push pull amp that I designed and built several years ago. I still have the amp and use it often. It is based loosely on a design that appeared in Vacuum Tube Valley issue number 12 a few years ago. Circuit description and pictures are posted. I finally found the original schematic, and the magazine article that it was based on. I do not yet have the schematics in digital form. They will be posted when I get them done.
After building several push pull pentode amps based on popular designs I decided to try something different. I have heard some great sounding single ended triode amps but anything that I could afford to build did not have enough power for my speakers and my musical tastes. I decided to build a push pull amp using 300B tubes. New Sensor had recently released the Sovtek 300B tube which got good reviews in the audio magazines. So I sold a KT-88 P-P amp which I had built, and an old MC-30 that worked good but I didn't have a mate for, ordered the most expensive set of tubes and other parts that I have ever bought, and set out to build an amp. The design is based loosely on an amp that was featured in Vacuum Tube Valley at the time. I modified the design to use driver tubes that I had, and designed my own power supply.
The driver circuit for both channels is on a single PC board. The input stage is a differential amplifier using a 5751 which can be driven from a balanced or an unbalanced source and is used as the phase splitter. Measured frequency response goes from DC to over 100KHz. The phase splitter feeds two separate SRPP driver stages (one for each output tube) using 6CG7/6FQ7 tubes. The complete driver board can deliver over 150 Volts P-P from 10 HZ to 50 KHz.
The power supply uses a Plitron toroidial power transformer feeding a full wave bridge rectifier made with HEXFRED diodes and a choke input filter for the main B+. The transformer has two 175 volt windings (connected in series) and is rated for 300VA so it overkill for a 30 WPC amp. Since it is from their generic transformer catalog (not a "vacuum tube transformer") it is reasonably priced. Main B+ is 380 Volts and I tested the supply to 1/2 an amp. I had originally used a capacitor input filter, followed by a mosfet regulator. I later switched to a choke input filter, without a regulator. Negative 200 volts is generated with a HEXFRED on the center tap. The rectifiers and filter caps are mounted on perf board which is mounted over the transformer. The tube filaments are powered by four PC mount "flatpack" transformers mounted under the chassis on a separate PC board.
The amp worked great from the beginning. This thing sounds awesome, the bass is unlike any 300B amp I have heard, I have played everything from classical to techno with no problem. The amp uses no feedback and distortion is only 3% at 25 watts, under 1% at 5 watts. When driven to clipping by a strong bass note the rest of the music is not destroyed by intermodulation distortion like many push pull amps (with feedback) do. I listened to this amp almost every day for about 4 months and then it just didn't sound the same. Some of the "life" just went away.
So what went wrong? One of the Sovtek 300B's had developed a partially open filament, only half of it lit up. The local tube dealer who sold me the tubes said that I was out of luck since the 90 day warrantee was up, but he would get me a new tube for his cost. An email and a phone call to New Sensor brought a similar story. After several weeks of frustration, I coughed up the bucks for a new tube. The amp was it's old self again. End of story? No. Three weeks later the second 300B died in the same manner as the first. I checked the filament voltage, 4.95 volts AC. The inrush limiter is working, it takes almost a second for the voltage to reach 4.95. The plate supply is on a separate switch. All is right with the design, but the tubes keep dying. I asked one of my tubehead friends who has time to participate in the audio forums to ask if this has happened before. Turns out it is not uncommon, some people get great service with these tubes, and others have seen the filament die. I sent a second email to New Sensor. I can't find their reply but it went something like we no longer sell Sovtek 300B's, buy our new Electro Harmonix 300B, it has an improved filament. I don't know about you but I am not fond of spending $360 on junk that I can't use. I asked about a discount on the " improved tubes" they said no. I am not giving these people any more of my money. This is about the same time that Svetlana 300B's disappeared. The amp is placed on a shelf in the closet, maybe it will morph into something else, maybe it will be robbed for parts.
In a last attempt to hear my favorite amp again I bought a pair of used tubes from a guy on ebay who said that they were good, he just found something that he liked better. So the amp is once again alive. Another of the original tubes died a few months later. At the Miami hamfest I met Stan (ESRC on Ebay) a dealer of mostly NOS tubes who I have bought many tubes from. He had some Russian 300B's cheap. I got 4 early vintage Sovteks for $100. I put those tubes in my amp over two years ago, they are still working perfectly. That tells me that the problem with the Sovtek 300B's must be lot related.
I spent over $500 on tubes for this amp. I vowed never to design anything with expensive tubes again.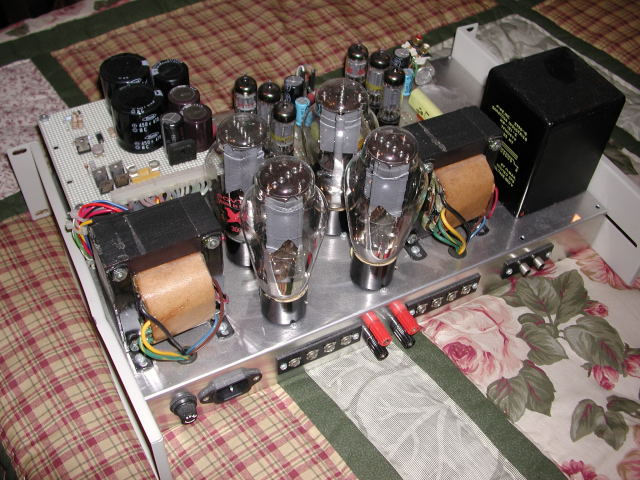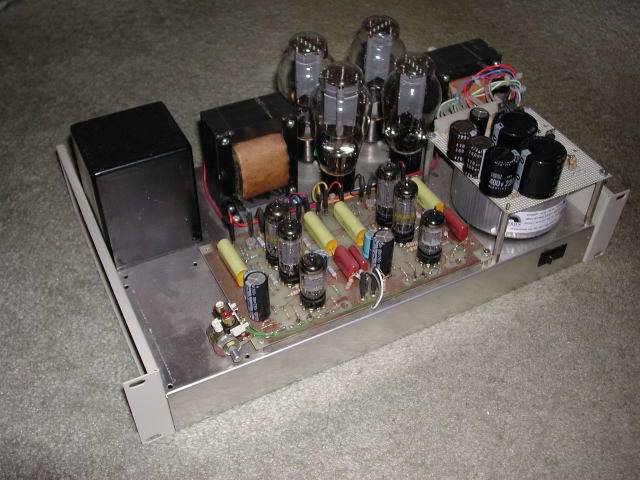 The Amp Chassis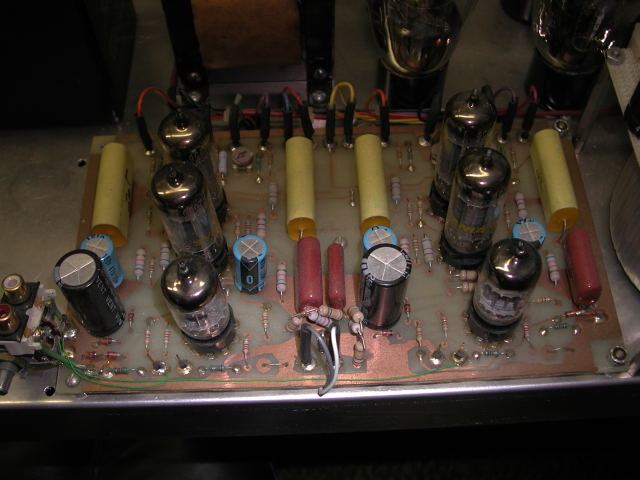 The Driver Board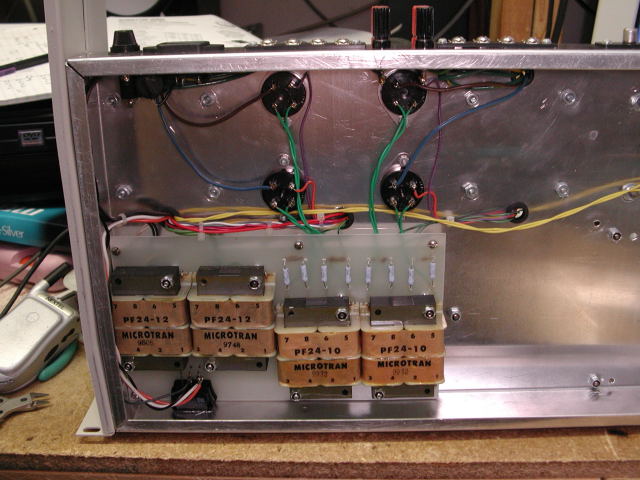 Under side of chassis
Note the emptiness under the chassis. 99% of the signal wiring is on the driver board, so that only power connections are under the chassis. This is common to most of my designs.
Update
I built this amplifier over 4 years ago. At the time it was the best sounding amp that I had ever built. At that time I didn't understand the SE phenomenon. After I heard the first sounds from the Simple 45, I lost the desire to listen to the 300Beast. Does that make it a bad amp? No, it was my primary amp for over 3 years. It still sounds great (until recently). I decided to steal its filter choke to build the 845 SE (I am on a limited budget). Will I ever put it back together? I don't know. If I had to decide today, I would rebuild the driver board using PowerDrive technology. Will I ever design and build push-pull amps? Yes, I will explore push-pull further in the near future.
The 845SE has more power and an overall clearer sound. Percussive sounds hit you with "in your face" realism. Subtle details are more pronounced. Both amps have similar frequency response (and both use inexpensive output transformers), yet the 300Beast has far more bass. The bass is tighter and more controlled (really apparent with techno or electronic music). I believe that this is due to the higher output impedance of the SE design.
Update to the Update
I took the choke that was in the Ongaku power supply and wired it into the 300Beast. It is alive again! I have found the original schematic (and my KT88 schematic) in an old version of Eagle. They will be copied into Visio and put on this web site soon. The amp currently resides in my rack and I still listen to it on occasion. It has a tightness to the bass that I can not duplicate in a SE amp. (The 833A SE amp may do it though).