NOTE, This board is NOT available yet. The decision to commercially duplicate it has not been made yet.
While working on the Universal Driver Board a thread developed on the diyAudio forum dealing with designing an amplifier using 6L6GC's in AB2. The thread originator desired to use 6SN7's for the driver tubes. This thread started out as a "paper design" centered around modifying the Universal Driver for these specific parameters. I started thinking that this could be the beginnings of the all octal amp that people have been asking for. I had been considering a fully differential amplifier design for a while, and this design could be configured for differential operation. I got interested in this project and decided to commit the paper design as it existed at the time to a PC board. It is a good thing because it didn't work very well. I hacked up the board performing several experiments and modifications until it worked great.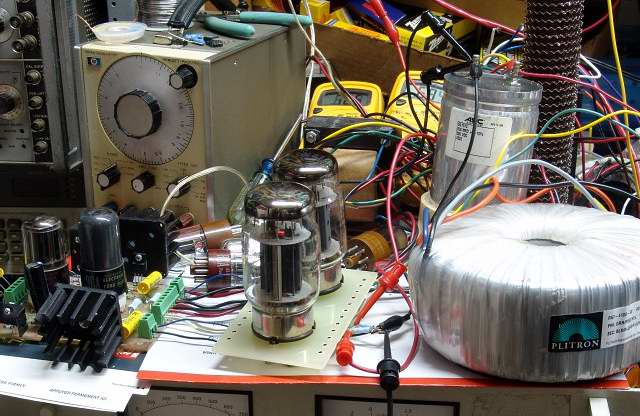 The original 4X4 board giving some KT88's a workout
The first PC board was too small (4 X 4 inches) for easy assembly, so I laid out a new board with all of the changes and made it 4 X 5 inches. This one ROCKED!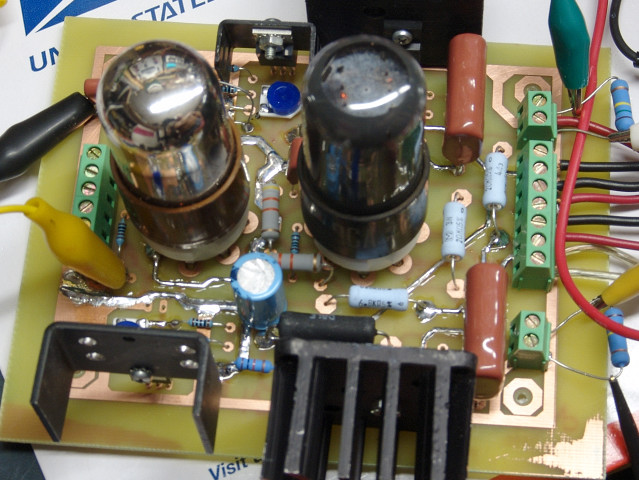 The new 4X5 board. Not even trimmed to size yet
This board uses direct coupling between the two stages to eliminate a pair of coupling caps. This lowers the available output voltage which is not an issue for most uses. It was speculated that two stages of 6SN7's in LTP would not have enough gain to drive a 6L6GC to full power from a CD player especially in triode. That has proven not to be true. I have pushed a pair of KT88's to 90 watts in triode from a CD player. 90 WPC in triode? Yes, it is possible in AB2, but I would feel safer limiting the fun to say 75 watts.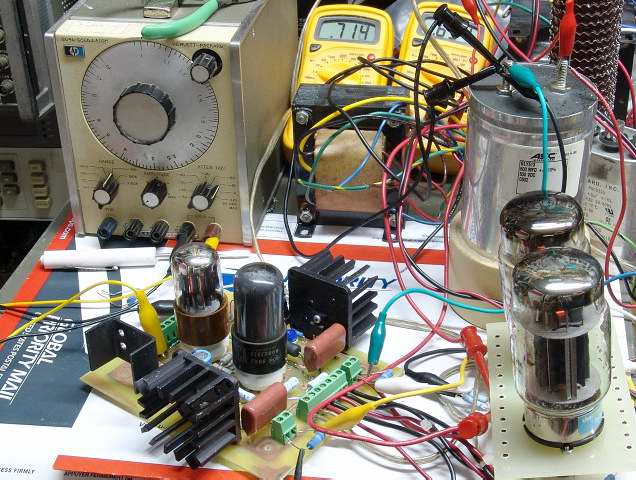 Here is the new board cranking up some KT88's.
I ran the board at the 75 watt level for at least an hour. It and the output tubes remained well behaved with no signs of distress. I performed tests with 6L6GC's and just about any other tube that I could find. I have a preference for triode mode operation with little or no feedback, so this is where I concentrated most of my testing.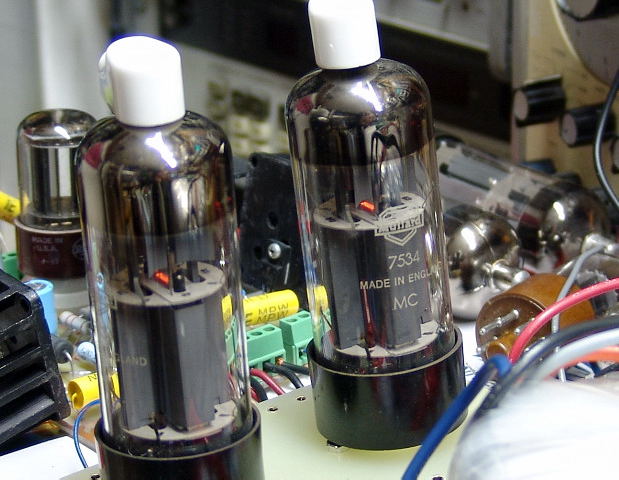 Here is a pair of Mullard E130L tubes happily providing about 50 watts in triode from a 270 volt supply.
Low impedance tubes like the E130L (1250 ohm P-P load) are good candidates for trying a power (mains) toroid for use an an OPT. After optimizing the operating parameters for the E130L's for minimum distortion at 50 watts in triode the conventional OPT was removed and several different toroidal power transformers were tried. Some distorted badly, some worked OK, but I found some transformers that were removed from commercial printing equipment that worked great.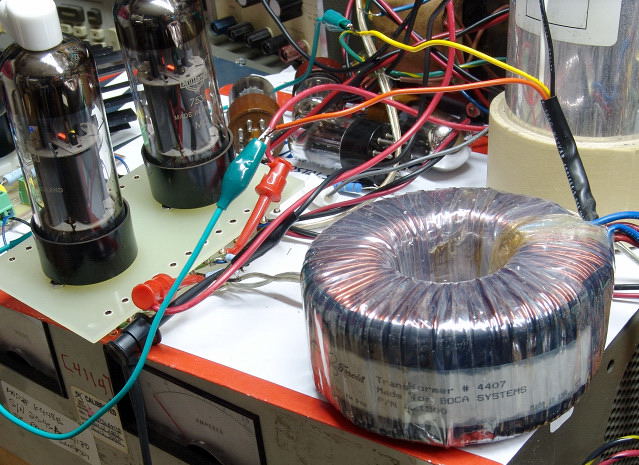 These worked very well. I hooked it up to my speakers and listened to it for a while. There was no hint of saturation distortion even with some serious techno music cranked to the edge of clipping!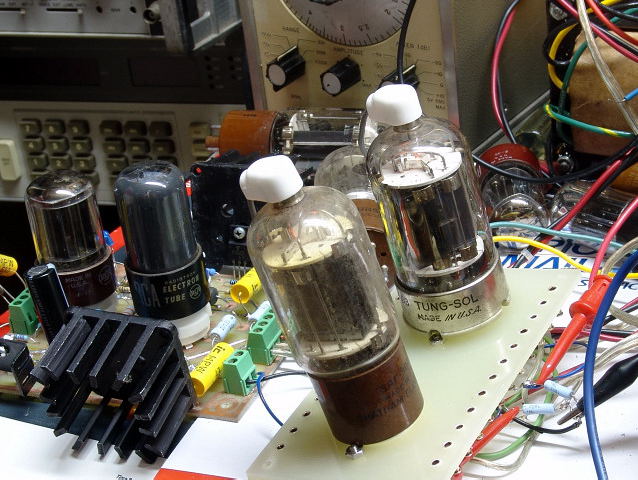 While experimenting with different tubes I came across a box of dirty old tubes in the warehouse. These turned out to be magical. There were 8 tubes but only 2 worked. The working pair didn't look the same or even have the same number. The tube closest to the camera is a 3D21WB and the rear tube is a 7403. Many tube sellers mistakenly sell these as the same tube but they are NOT identical. The 7403 has a single 6.3 volt heater and the 3D21WB has a center tapped 12.6 volt heater. Otherwise they are identical. Note that the 3D21WB and the 7403 have 40 watt plates. Other 3D21 types have 15 watt plates. This pair of tubes had no trouble cranking out over 100 watts in triode mode. The 7403 has a 850 volt screen and a 4000 volt plate voltage rating! I didn't go past 500 volts.
I called a tube dealer and bought 5 more 7403's (all he had). I built a second octal driver board. I mounted both driver boards on to a breadboard, but the UPS man delivered a large box full of Tubelab SPP boards, so this project got voted off of the workbench for now.